We, at Kritika Bagaria Associates (KBA) help students identify their purpose and integrate their life experiences into their college applications.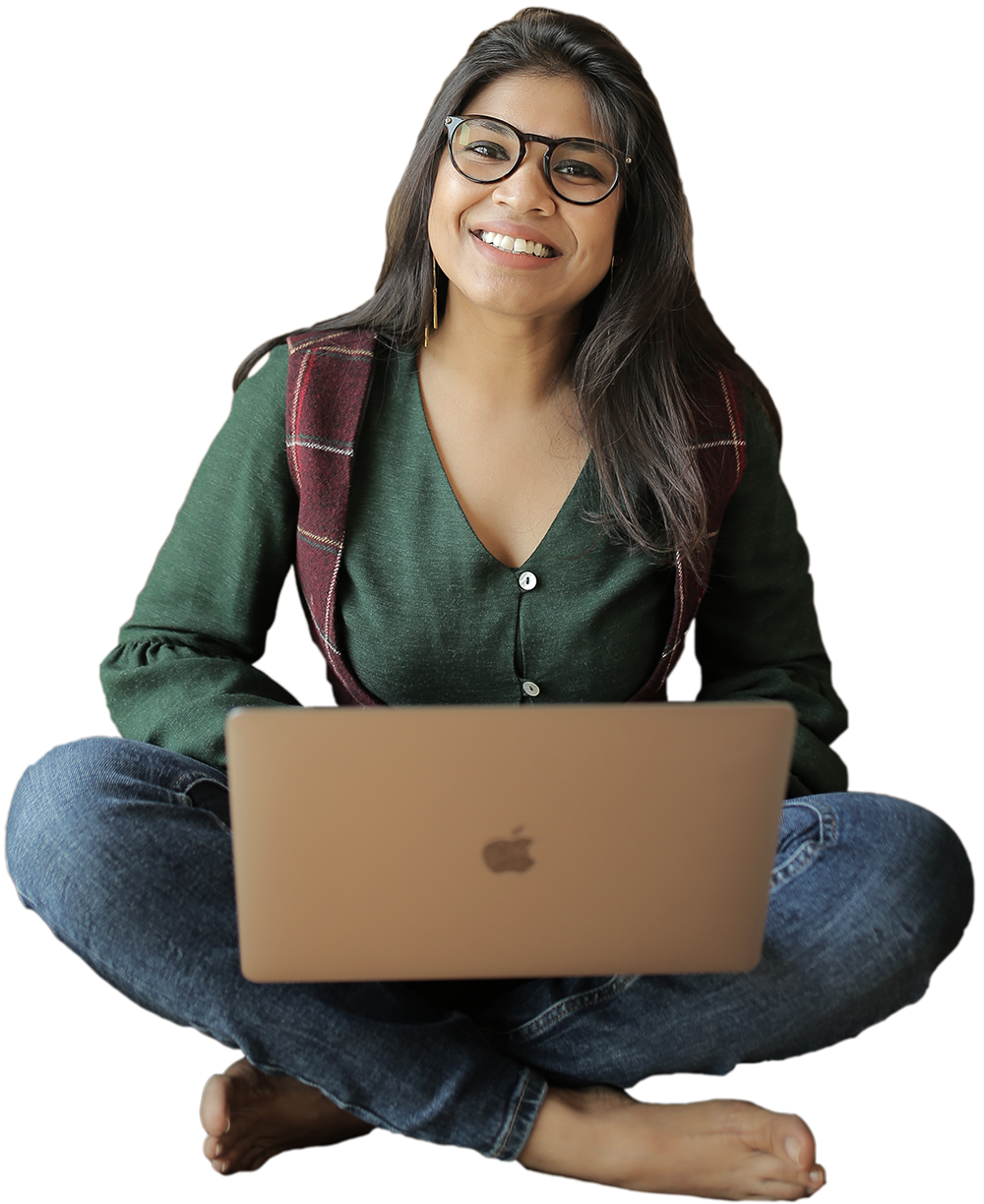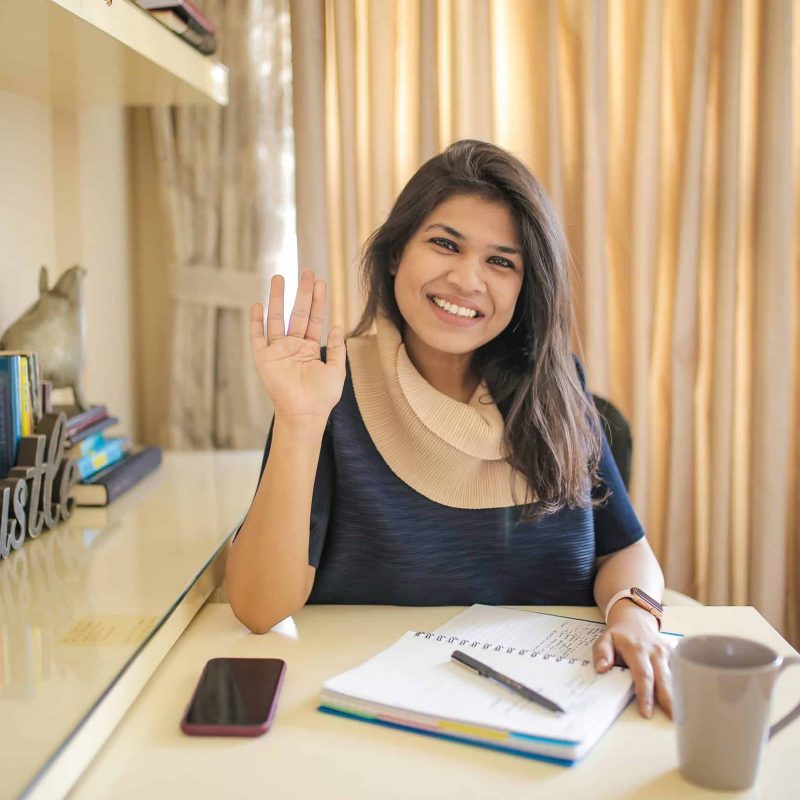 Hello, I am Kritika Bagaria!
I help students navigate the uncharted waters of how to decide on what and where to study. Having previously worked across corporates in Singapore, Mumbai & Kolkata, I have taken on the role of a College Admissions Mentor whereby I come in as an ally for parents, with good information and perspective, to help students understand what keeps them ticking!
Here are some 'Happy KBA Stories' – students who we have nurtured and the colleges that they have gotten into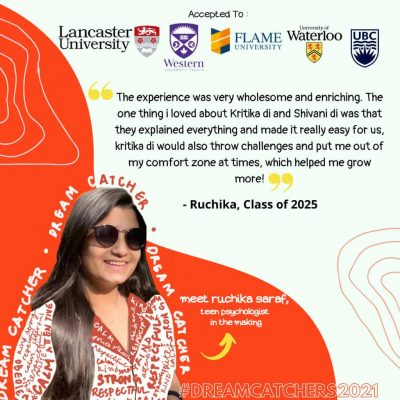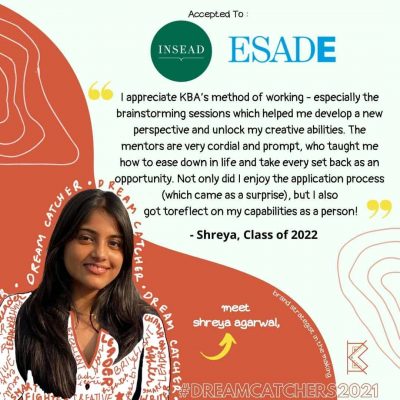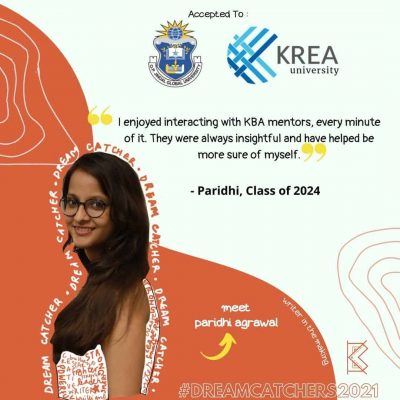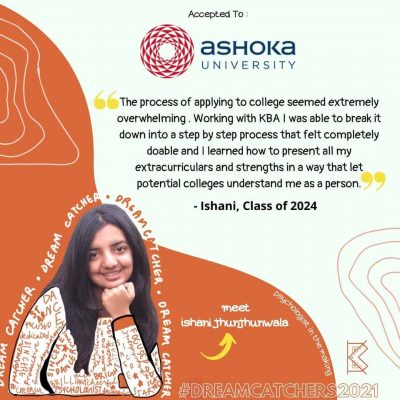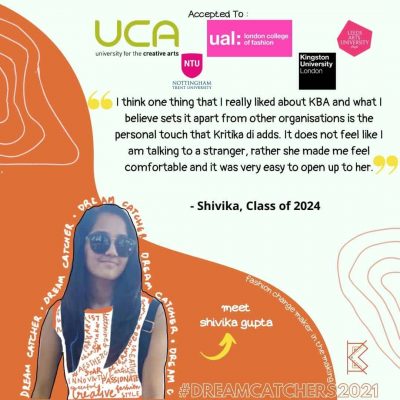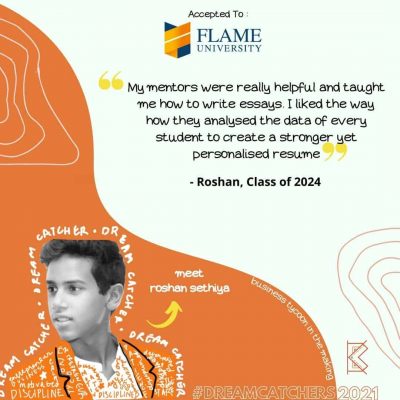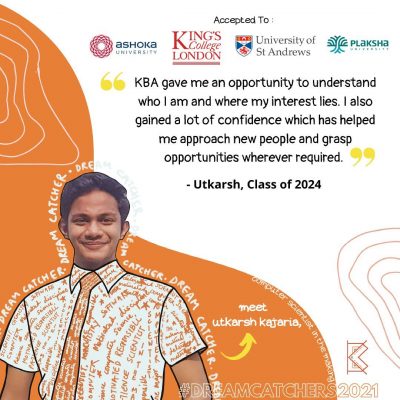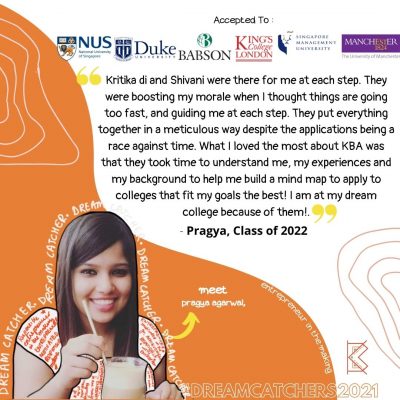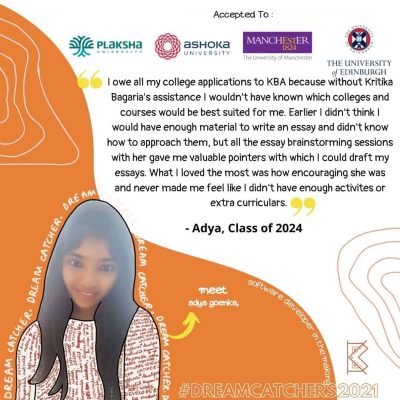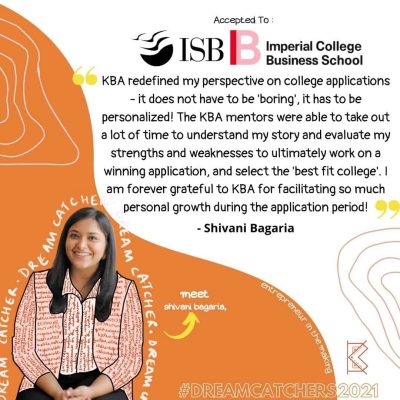 Check this video to know what our students think about us
Vriti's mentor ship under KBA was very professional, yet seemed personal and tailor made for Vriti. They guided us through every little detail, and made sure everything was done with extreme care and due diligence. They also made sure the applications were done with clockwork precision. We were very happy with the end result as she got accepted in all the colleges KBA suggested and guided her to apply to. Thank you for being such lovely mentors to my daughter!
Sheena Gupta, Mother of Vriti Gupta (UofT, Class of 2025)
Initially when we just started researching about colleges and the application process we were certain that Shivika had done sufficient work. But after consulting with KBA I realised there was so much more left to do. KBA provided Shivika with a number of opportunities in her desired field which she otherwise would have missed out on. I believe you gave us a lot of personal attention at each step and with that I didn't even realise when Shivika got into her dream college!
Rohit Gupta, Father of Shivika Gupta (UAL, Class of 2025)
I was looking for a strong guidance and mentorship support for my sister for her college applications. I was too busy, not fully updated and knew help could make a huge difference to her process. So grateful I found KBA with exactly what I needed - not just mentorship, guidance but also complete hands on support who took charge of everything, making sure my sister timely completed everything with quality. This wouldn't have been possible without them. I am extremely happy and satisfied with the level of ownership the team took and they went the extra mile at every step to make everything happen.
Yukti Agarwal, Sister of Paridhi Agarwal (KREA, Class of 2025)
I was looking for a good counsellor when Utkarsh reached class 11. Luckily I got in touch with her and after having spoken to her I felt assured that my son will be in good hands. With 2020 being a difficult year, Utkarsh's preparation for college application went very smoothly. She was extremely patient with him and guided him through the whole procedure of applications. Kritika took care of his internship too which helped him step out of his comfort zone and played a major role in his personality development. I think the best part was that she was easily approachable and was always comfortable to speak to and helped clear all our queries. She has been a support factor for us during this unpredictable situation.
Nidhi Kajaria, Mother of Utkarsh Kajaria (King's, Class of 2024)
Kritika was extremely thorough with the resume building process. She is able to spot the talents of the child and guide them accordingly. She has the ability to build a good rapport with the children and understands them well. My daughter was very comfortable working with her for her application.
Ruchira Jhunjhunwala, Mother of Ishani Jhunjhunwala (Ashoka, Class of 2024)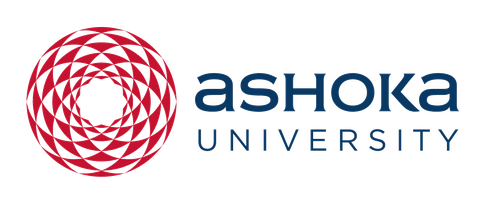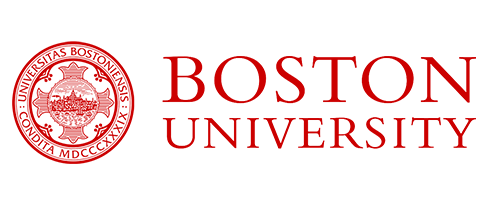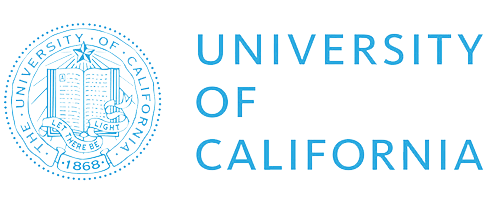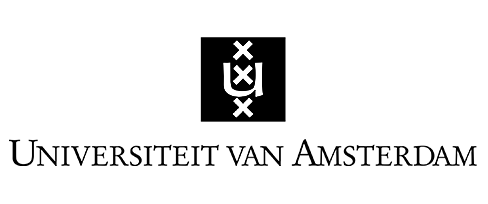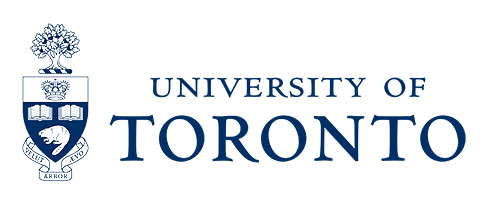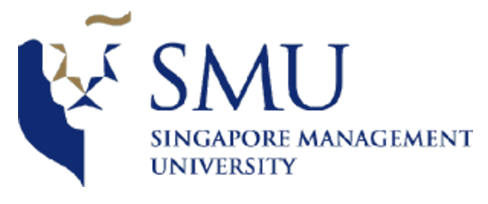 KBA's 'startup accelerator' style approach has helped motivate students to build and grow their own passion projects and social initiatives to make a difference in their communities.

Through her WEvolve Podcast, Anjali is bringing to her audience unhesitant conversations of what gender implies to people from various walks of…
We at Kritika Bagaria Associates constantly strive to bring exciting opportunities for our students to enable them to build their resume, connect with colleges and network with inspiring changemakers.